Reflections on SIPPET
The SIPPET study reignited the debate about the optimal class of FVIII concentrates to limit inhibitor development, particularly in previously untreated patients (PUPs) in the United States. Here are some of the implications and conclusions we can draw through the largest hemophilia A study conducted yet. Come back to this page often, it will be updated with the latest analyses of this pivotal trial.
A Retrospective Analysis of the SIPPET Study
In the original SIPPET study, researchers found strong evidence that recombinant factor VIII (FVIII) use results in an 87% higher rate of inhibitor development than plasma-derived FVIII containing von Willebrand factor (VWF) in previously untreated patients (PUPs) with hemophilia A.1 To assess whether genetic profiling would identify patients who can reduce the risk of inhibitors with recombinant FVIII, investigators conducted a retrospective SIPPET analysis.2
Patient population
Genetic risk profiles, combined with treatment type, can play roles in inhibitor development across product classes. In order to determine if genetic risk profiling can help identify the risk of inhibitor frequency, participants in this SIPPET retrospective analysis were further categorized by genetic FVIII mutation.2

RETROSPECTIVE SIPPET ANALYSIS DEMONSTRATES THAT GENETIC PROFILING DOES NOT REDUCE INHIBITOR RISK WITH RECOMBINANT FVIII TREATMENT2

Among high-risk patients, cumulative incidence of inhibitors was 47% with recombinant FVIII. With the low-risk patients, the cumulative incidence of inhibitors with recombinant FVIII was 43%. It was determined that there was no difference between the two groups treated with recombinant FVIII, regardless of their genetic profile.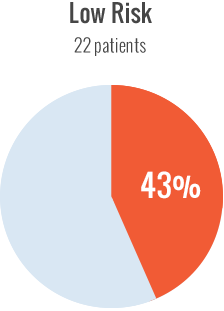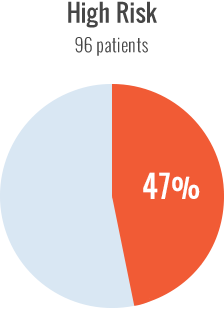 IMPLICATIONS OF THE SIPPET RETROSPECTIVE ANALYSIS2
Results of the analysis lend no support for risk profiling of previously untreated patients and prescribing recombinant FVIII to those with a low prior inhibitor risk.
STAY CONNECTED
Sign up to receive access to the full SIPPET study, as well as updates about hemophilia, inhibitors, and the latest clinical data.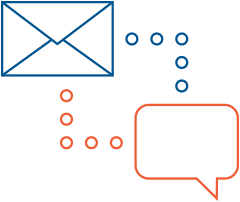 REFERENCES
Peyvandi F, Mannucci PM, Garagiola I, et al. A randomized trial of factor VIII and neutralizing antibodies in hemophilia A. N Engl J Med. 2016;374(21):2054-2064.
Rosendaal FR, Palla R, Garagiola I, Mannucci PM, Peyvandi F. Genetic risk stratification to reduce inhibitor development in the early treatment of hemophilia A: a SIPPET analysis. Blood. 2017;130(15):1757-1759.